Ok, I am back from a much needed vacation in Maine and ready to talk about the draft.
BCJM already talked about the Bruins 1st round pick Jordan Caron
.
So what about the rest of the draft?
3rd Round (#86):
RYAN BUTTON
.
Button is an 18 year old defense who played in the WHL last year. At 6'0", 185lbs Button is said to be a very mobile defenseman who skates well.
In 2008, Button played 70 games for the Prince Albert Raiders. During that span he netted 5 goals and had 32 assists (37 points).
Button was a very dependable defenseman for the Raiders and was a staple at the blue line on their powerplay. Earlier I mentioned that he does skate well with a bit of speed and very good control and this allows him to jump back into the play should he make a mistake.
Button's biggest issue will be his size and he will need to bulk up to deal with the larger, quicker players in the NHL.
4th round (#112):
LANE MACDERMID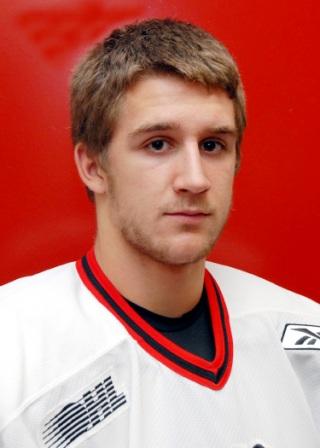 Lane is a 20 year old LW who split time for the Owen Sound Attack and Windsor Spitfires this past season in the OHL. With the Owen Sound Attack, MacDermid has 8 goals and 6 assists (14 points) and played 38 games for Windsor tallying 7 goals and 14 helpers (21 points), but had a very solid playoffs with 4 goals and 5 assists (9 points) in 20 games.
MacDermid is a big guy at 6'3" 205lbs and he knows how to throw his fists around. With the Owen Sound Attack, MacDermid racked up 85 Peanlty Minutes (PIM) and 112 with Windsor.
As you can see in the video, MacDermid (#15, dark jersey) drops this guy with one punch. It seems that MacDermid is a Lucic-type of player who doesn't mind getting his hands dirty.
6th round (#176):
TYLER RANDELL
Randell is 6'1", 195lbs RW who played for the Bellevielle Bulls/Kitchener Rangers of the OHL. Randall began the 2008-2009 season playing for the Belleville Bulls where he posted 10 goals and 5 assists (15 points) before being traded to the Kitchener Rangers mid-season. For the Rangers he netted 14 goals and had 8 helpers (22 points) for a combined 37 points in 73 games.
Randell is a checking forward who will score most of his goals around the net. His large size should help him set-up in front of the net and deflect pucks in. His biggest drawback is his skating ability, which will have to improve immensely if he is to see time in the NHL.
7th round (#206): BEN SEXTON
Not much is known from Sexton. The 5'1" 185lbs C will play in the BCHL next year.
---
I think Boston drafted pretty well and I am a big fan of the Ryan Button and Lane MacDermid pick. I think Button will have a great impact in Providence, as they are looking for a top defensive chip now that Lashoff is in Tampa.